Polished Concrete
BREAKTHROUGH TECHNOLOGY!
A BREAKTHROUGH TECHNOLOGY in Polished Concrete Floors. The Hardware Floor and the Exposed Aggregate Floor processes.
Diamond Polished Concrete produces a beautiful, durable floor, but is labour intensive, consumable-intensive that can exceed some budgets.
Using the unique properties of Lythic Concrete Densifier, a new floor sealer and diamond polishing alternative has been perfected.
The Hardware Floor a new method of concrete hardener that delivers a near polished concrete look faster, easier, and tougher at a significantly lower cost. This is a cost-effective alternative to Diamond Polishing Concrete Floors.
The Hardware Floor process where new, hard-troweled floors can simply be cleaned – no grinding necessary.
The Lythic HardWear Floor when burnished produces a near-polished gloss at a fraction of the cost.
The Exposed Aggregate Floor process reduces the amount of diamond grinding required providing significant savings.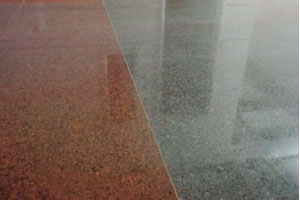 The Facts on Densifiers
Stain Protection is an integral part of finishing and maintaining a polished concrete floor or burnished floor. Find out why Lythic Protector and the new game–changing LythicSPD Protector provides performance that cannot be matched by other stain protector products.
Lythic leaves concrete hard, stain resistant, easy to maintain, and light reflective. The right Gloss at the Right Price.
Find out how Lythic Solutions' products for polished concrete floors reduce cost and time, boosts performance and offers new options for floor finishes you didn't know were possible.
To learn more about this new and exciting polished concrete process and discover the benefits of Lythic products:
Lythic Solutions Increases abrasion resistance extending the life expectancy and integrity of the floor:
Viscosity is very similar to water and will penetrate deeply into micro pores.
Controlled reactions provide for deeper penetration and more permanent protection.
Non-soluble and non-expansive—will not absorb water or cause the floor to sweat (SSF).
Chemically reacts with concrete to produce insoluble tri-calcium silicate hydrate, making it harder and less permeable.
Will not scratch or peel.
No "whiting," even if over-applied.
Reduces dusting for cleaner and safer environments.
Applies in an easy single coat—no water wash required or environmental clean up and disposal.
Can be applied on fresh, newly-toweled concrete.
Curing compounds can be applied on top of treated surfaces to provide ultimate hydration.
Does not contain sodium or potassium salts that contribute to surface crazing, efflorescence and surface ASR.
Provides high reflectivity (surface sheen) that beautifies concrete, holds up to heavy traffic and improves aesthetically over time.
Requires no waxing and provides an immediate sheen that improves with normal wear and maintenance.
Water-based, contains no solvents, low odor. Extremely low VOC content.
Permanent and durable surface resists marks, improves traction and helps prevent waterborne contaminants from staining.
Works as an excellent primer and is compatible with most resilient tile carpeting adhesives.
Makes concrete easier to clean, creating an environment that is less susceptible to the proliferation of harmful bacteria.
Prevents efflorescence and the leaching of lime.
USDA approved for incidental food contact.
All product supplied as a concentrate with Densifier, Protector and Cleaner Supplied in 10ltr and 20ltr pails and 208ltr by order.